So you're waiting for your next phone interview. Palms sweaty, right?
That's because a phone screening is no cakewalk.
You can't see the person's face. You can't see their gestures.
Maybe they've stopped listening to you and started browsing through their computer.
Has the connection broke off? Are you speaking slowly enough?
That's the stuff nightmares are made of. And yet-
*This* is where every job opportunity begins.
Relax. While phone interviews are stressful for most candidates, for you they're about to become easy as a pie. (Or way easier, at least.)
This guide will show you:
A list of the best phone interview tips and tricks to help you breeze into the next round every time.
How to prepare for a phone interview to avoid stressful surprises.
A handy phone interview cheat sheet of what to do during the interview.
Everything you should do after a phone interview so the recruiters can't wait to meet you in person.
Want to land more job interviews? Create the perfect resume in our builder:
Pick a professional template.
Get expert resume tips from recruiters.
Edit and download your resume in minutes.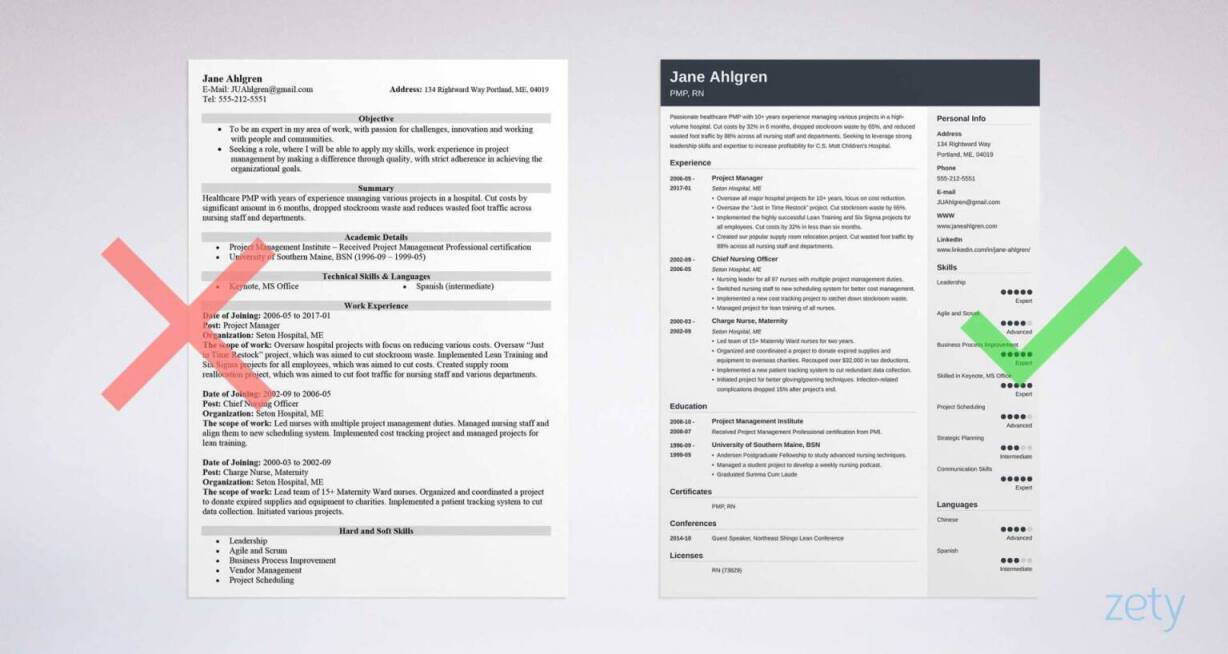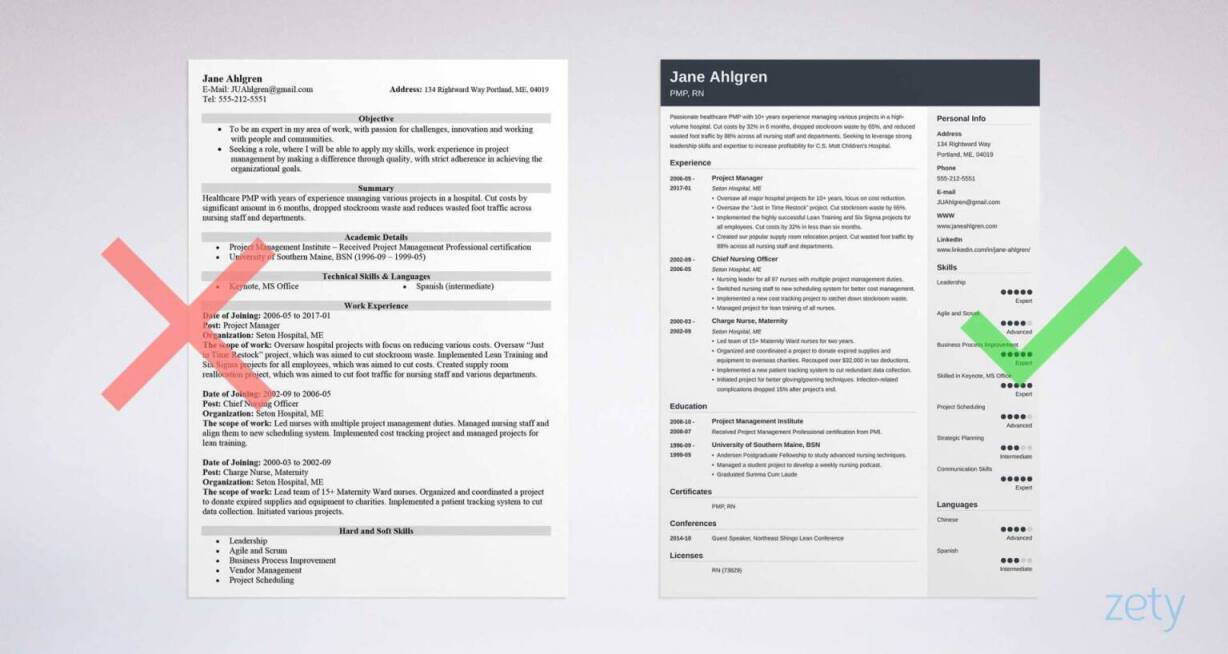 One of our users, Nikos, had this to say:
[I used] a nice template I found on Zety. My resume is now one page long, not three. With the same stuff.
1
Tips for Before the Phone Interview: How to Prepare
We'll get to a full list of phone interview tips, but first, a quick phone interview checklist.
Here's how to prepare for a phone interview:
Understand who's calling you. Check their role-is it an external recruiter or the hiring manager?
Read the job description again and research the company. Try to learn as much as possible about their values and the position on offer.
Make sure the time of the call fits your schedule and create a comfortable environment.
Prepare your salary requirements.
Have your resume and LinkedIn profile in clear view.
Turn off call waiting to make sure you get no interrupting calls.
Prepare questions to ask.
And here's why it's so important and how exactly to do it.
Phone Interview Tip #1: Understand who's calling you
What to expect in a phone interview? If it's an external recruiter (which is more likely), you'll probably face some general phone interview questions that test your overall fit.
If it's the hiring manager or a member of the in-house HR team, get ready to answer more specific questions that test your knowledge about the company.
Either way: the moment you get the interview request, make sure to write back ASAP. It will make you come across professional and organized.
Phone Interview Tip #2: Do your homework!
No matter who you'll speak to, find out as much as possible about the job you're interviewing for.
Double-check the requirements and responsibilities in the job ad and make sure your expertise matches what's expected.
Find out about the upcoming challenges and projects for your position.
Research the company on LinkedIn to learn about their mission and values.
Note down keywords related to skills and qualities they're after-and then, touch upon them during the interview.
Phone Interview Tip #3: Be ready for the call when it comes
Plan on being somewhere quiet.
Clear out all potential distractions. If you're interviewing at home, make sure everyone knows you'll be busy.
Keep a glass of water handy.
If something goes wrong and you're not ready, answer the call and respectfully let the recruiter know you'll call them back in few minutes.
You know you'll have to be in a place with background noise? Wear a headset of earphones with a microphone: this will cut most of the noise off.
Phone Interview Tip #4: Be ready to talk $$$
9 times out of 10 you'll be asked about your salary requirements. Research the company on Glassdoor to see what is their pay range for similar positions. Ask yourself if that salary range is satisfactory. Never say you'd be willing to earn less that you know you would.
But-
If you don't get asked about your financial expectations, save the nitty-gritty dollar billz discussion for later.
You can't see them, but hey, they can't see you either. So-
Why not take advantage of that?
Have a copy of your resume printed out or opened on your tablet. It will take away some stress of forgetting your proudest professional moments you so want them to know about.
Phone Interview Tip #6: No call waiting
Turn that function off. You'll avoid awkward beeps in your ear in the middle of an important phone interview.
Not to mention, you won't be risking accidentally switching between calls and leaving the interviewer hanging.
Phone Interview Tip #7: Know what to ask at the end
This is the single most important interview question-
Do you have any questions for me?
Done with the phone interview prep? Let's get to business. Time for some phone screening interview tips for during the interview itself.
2
Tips for During the Phone Interview: What to Expect
and How to Nail It
Plot twist-
You're on your own.
I can teach you what to do when preparing for the job interview. I'll be there for you when it's over. But I can't answer the questions for you. What I can tell you, though-
You'll be fine. This part is scary before it starts. But it doesn't have to be while it lasts. Just follow the phone interview etiquette and use the tricks below.
Here's how to (do your best to) do well on a phone interview.
Phone Interview Tip #8: Start with "Hello" and your full name
Hello, Jane Doe.
Or-
Hello, this is Stewart Cole.
Will do the trick.
When they call you, they want you to sound like you were expecting it (because you were). That signals you're prepared. It's enough to make a great first impression.
Phone Interview Tip #9: If it's the first callback after reviewing your resume, get their contact details first
Don't wait until the end of the phone screening. You might get too excited to ask. Or worse, the call might get interrupted-
You'll want to know their name when you call back. If they're using a private number, you'll want to know their number, as well, right?
Phone Interview Tip #10: Don't start speaking until they finish their question
You shouldn't dominate the conversation. At this point, it's their role to ask, and yours to reply.
So dress the part. Let them finish their questions before you launch those job-winning answers.
Not sure what to say right off? Give yourself time.
That "awkward" silence feel way more awkward to you than it does to them. If you feel it's becoming too long, communicate. Saying something along the lines of "Excuse me, I need an extra second to answer" is perfectly fine.
Phone Interview Tip #11: Smile
I'm dead serious. They'll pick up on your tone. Believe it or not, people can actually hear you smile.
What interviewers want from the phone screening is energy and enthusiasm. When you smile, you'll always convey that message.
Phone Interview Tip #12: Speak slowly and keep a conversational tone
Speak so slowly that it almost feel unnatural to you. Why?
It adds up pretty nicely, doesn't it?
Phone interviews are stressful. Keep slowing yourself down if you don't want to sound like a robot. Remember-
After all, it's a conversation. Try to be casual. Speak like someone they will enjoy speaking with once they hire you!
Phone Interview Tip #13: Let them interrupt
Remember about the power dynamics in this conversation. They are in charge and want to feel this way. If they interrupt you, it's for a good reason.
Maybe you weren't getting to what they expected you to? Perhaps your answer was missing the point?
No matter how frustrating that might prove (after all, you really wanted them to know that bit), accept it. When they interrupt you, it means they're not paying attention already.
Phone Interview Tip #14: Take notes
Everything you discuss during a phone interview will most likely be critical during the next round. Note down all of the most important points the interviewer touches upon. In particular:
Details about your future responsibilities and challenges.
Company values and mission.
Upcoming plans for the team you want to join.
Phone Interview Tip #15: Ask questions!
Remember the phone screening tip #7? Again, I want to stress it so hard it causes mental fatigue-
When you get asked "Do you have any questions for me?" you need to ask some intelligible questions!
I know, you'll be so glad it's almost over, you'll barely be in the mood to speak further.
But you have to.
It will show that you're engaged, inquisitive, and that you really want to join *this* company, not any other company.
Finally, if you have no questions about the position or the company left to ask, ask some questions about the recruiter.
Things like "How long have you been working here?" or "How did you start your job here?"
It will lighten the mood, let you learn extra details about the company and, potentially, create a personal bond with the recruiter. That might just give you the edge when it comes to the hiring decision!
Phone Interview Tip #16: Establish the next steps (and make them keep their word!)
The final question you should always ask is about the next steps of the recruitment.
When are the next round announcements to be made? What's their deadline for the decision?
Also, ask if you can provide any extra details to facilitate the recruitment. Hiring managers and recruiters will always appreciate your cooperation.
Once you get the information about what comes next, note it down and act accordingly. No response after the established deadline? Time to follow up on your phone interview. More on that in a second.
3
What to Do After a Phone Interview? Tips for Phone Interview
Follow-Up
Phone Interview Tip #17: Follow up with a thank you note the same day
Here's a cornerstone of the phone interview etiquette. After the phone interview, send a thank you note (that, by the way, is applicable not only to phone interviews).
In a Nutshell: Tips for a Phone Interview
Here's your ultimate phone interview cheat sheet:
Understand who's calling you, get their contact details, and check their LinkedIn profile.
Research the company and reread the job description before the interview.
Schedule the interview so that you can avoid any distractions.
Prepare your salary requirements and questions to ask after the phone interview.
Have your resume handy so you can have a look at it any time.
Answer the interview phone call with "Hello" and your full name.
Speak slowly, keep a conversational tone, and smile while you speak.
Take notes.
After the phone interview, ask smart questions.
Don't forget to follow up with a thank you note later that day.
Questions? Concerns? Doubts? Let me know in the comments, and I'll respond right away. Maybe we forgot some phone interview hints? Share your best preparing for a phone interview advice! Can't wait to hear your thoughts.