Are you qualified to be hired?
According to recent reports 75% of HR professionals admit there is a shortage of skills in candidates for job openings.
The first step to show the recruiter you've got what it takes to do the job? Highlight the right skills on your resume.
But what are the right skills? How to list them to land that interview?
Don't worry, in a few minutes, you'll learn exactly what to do.
This article will show you:
Examples of 99+ best skills to put on a resume for all types of jobs.
What skills to include on a resume to get more interviews for great positions.
Where to put work skills on a resume so that recruiters actually believe you.
How to write about key skills on a resume.
One of our users, Nikos, had this to say:
[I used] a nice template I found on Zety. My resume is now one page long, not three. With the same stuff.
1
Skills Make or Break Your Resume
<dfn>Skills</dfn> are your natural talents and the expertise you develop to perform a task or a job. Life skills help you deal with daily tasks in all areas of life while job skills allow you to perform specific work duties. There are several key types of skills: soft skills, hard skills, domain-general, and domain-specific skills.
For a job-winning resume, you'll generally need to include two sorts of abilities: soft skills and hard skills.
Soft skills are universal and not associated with a particular job or industry. Think communication, active listening, or empathy.
Hard skills are abilities you learn on the job, through formal education, or additional training. They are teachable, measurable, and related to a specific job. For instance, if you work in customer service, your hard skills will include Zendesk, data-entry, and product knowledge.
On resumes, hard skills show what you can do. Soft skills indicate how you'll perform your duties.
Why do you need to list both types of skills on a resume? Think about it this way:
If you only displayed soft skills, you'd be a "nice person" not qualified for any job.
If hard skills were your only capabilities, you'd be a robot unable to function in any work environment.
Enough theory, though. Let's see some examples of both types of skills you can include on your resume.
Just one caveat-
Raw lists of skills should only work as a point of reference. Use them to get inspired, but don't copy and paste all the skills you'll see into your resume. In the following section, you'll learn how to make the best use of your professional skills' descriptions.
Top In-Demand Skills for Resumes
What are the best examples of skills to list on a resume? Soft skills! Let's start with those.
The most important job skills to put on a resume include:
Active Listening.
Adaptability.
Communication.
Creativity.
Critical Thinking.
Customer Service.
Decision Making.
Interpersonal Communication.
Management.
Leadership.
Organization.
Public Speaking.
Problem-solving.
Teamwork.
Already see some skills you have, right? And the best part is-
Add a few of your most relevant soft skills to a resume whatever job you're applying for.
That's especially important if you're a recent graduate seeking an entry-level position.
problem solving (83% of employers)
teamwork (83%)
written communication (80%)
and leadership (72%).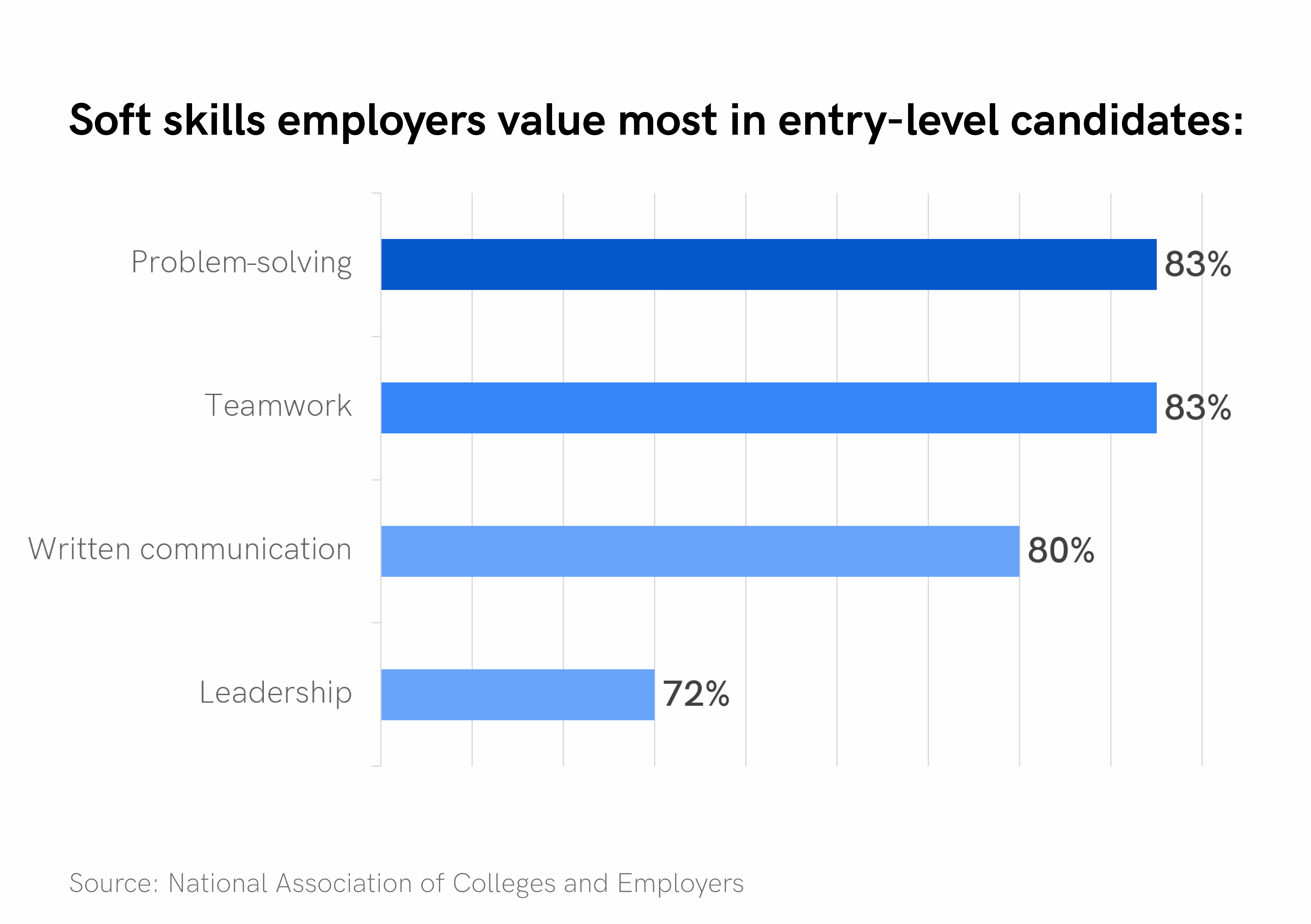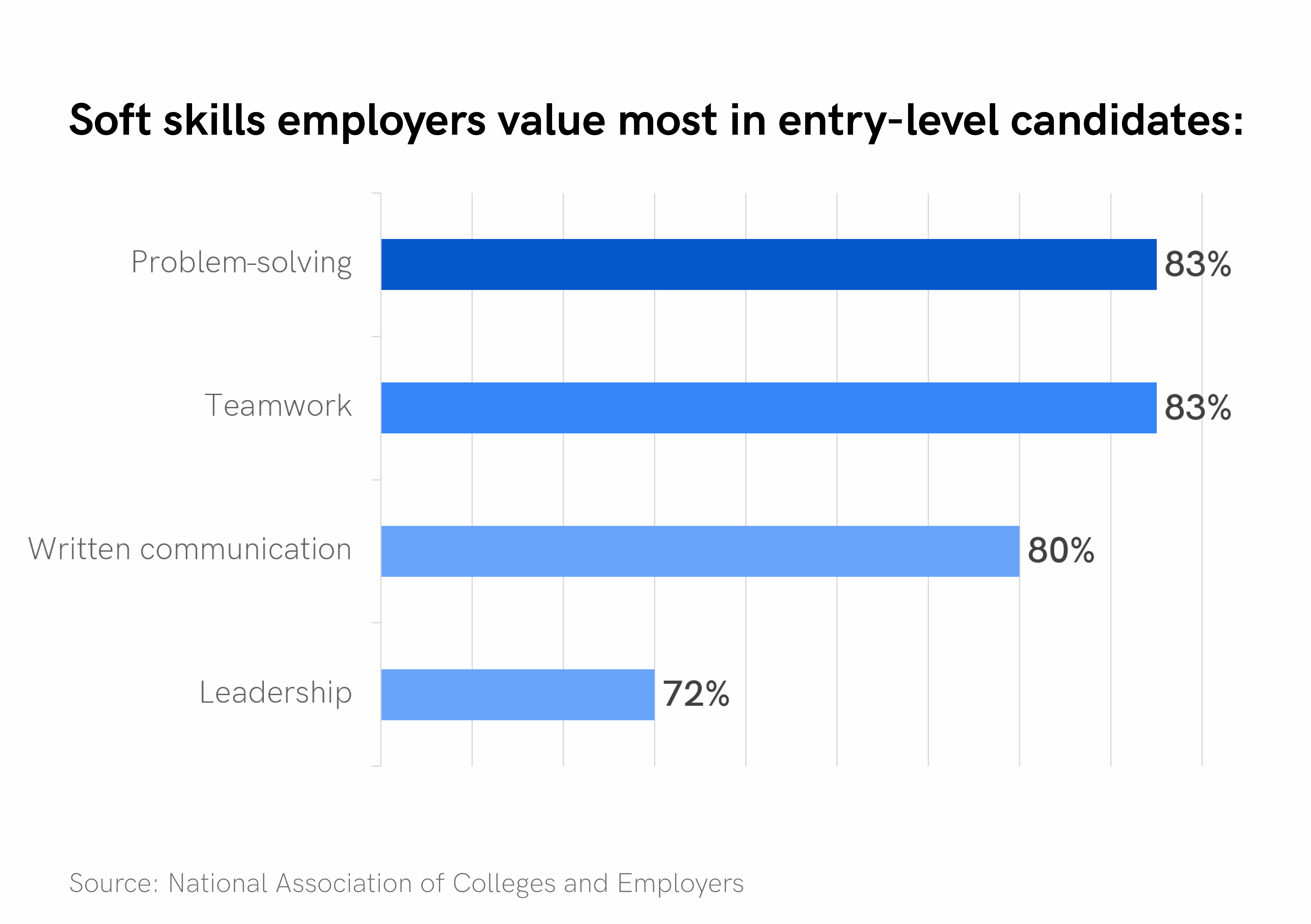 Remember that typical "people" skills such as conflict resolution, empathy, and general social skills matter too, but those are really hard to prove on a resume (and rarely required by employers). So-
Keep them in mind during your job search, because they might prove important in an interview but leave them out of a resume.
Don't know what skills are best for you? Tired of overthinking what to include? Our builder will do the job for you.
Resume hard skills examples for most popular jobs and industries:
The "hard" skillset you choose to highlight on your resume will depend on the type of your job.
Below you'll see examples of typical job skills for the most common professions.
Office and Administrative Jobs
Data Entry
Answering Phones
Billing
Scheduling
MS Office
Office Equipment
QuickBooks
Shipping
Welcoming Visitors
Salesforce
Calendar Management
Sales, Retail, and Customer Service Jobs
Product Knowledge
Lead Qualification
Lead Prospecting
Customer Needs Analysis
Referral Marketing
Contract Negotiation
Self Motivation
Increasing Customer Lifetime Value (CLV)
Reducing Customer Acquisition Cost (CAC)
CRM Software (Salesforce, Hubspot, Zoho, Freshsales)
POS Skills
Cashier Skills
Nursing and Healthcare
Patient Assessment
Taking Vital Signs
Patient Care
Recording Patient Medical History
Wound Dressing and Care
Urgent and Emergency Care
Record-Keeping
Patient Education
NIH Stroke Scale Patient Assessment
Electronic Medical Record (EMR)
Medicine Administration
Blood Pressure Monitoring
Phlebotomy
Rehabilitation Therapy
Hygiene Assistance
Use of X-Ray, MRI, CAT Scans
Meditech
Glucose Checks
Electronic Heart Record (EHR)
IT Jobs
Programming Languages
Web Development
Data Structures
Open Source Experience
CodingJava Script
Security
Machine Learning
Debugging
UX/UI
Front-End & Back-End Development
Cloud Management
Agile Development
Engineering & Technical Jobs
STEM Skills
CAD
Design
Prototyping
Testing
Troubleshooting
Project Launch
Lean Manufacturing
Workflow Development
Computer Skills
SolidWorks
Budgeting
Technical Report Writing
and Marketing
SEO/SEM
PPC
CRO
A/B Testing
Social Media Marketing and Paid Social Media
Sales Funnel Management
CMS Tools
Graphic Design Skills
Email Marketing
Email Automation
Data Visualization
CPC
Typography
Print Design
Photography and Branding
General Management and Project Management
Agile
Managing Cross-Functional Teams
Scrum
Performance Tracking
Financial Modelling
Ideation Leadership
Feature Definition
Forecasting
Profit and Loss
Scope Management
Project Lifecycle Management
Meeting Facilitation
If you want to zero in on a particular type of good skills to include on a resume, choose a guide from our comprehensive list right below.
Key job skills listed by type
2
How to List Skills on a Resume
The best method for creating a resume with all the right skills boils down to two things:
What skills to choose.
Where to put them.
Here's how to put skills on a resume::
1. Keep your resume skills relevant to the job you're targeting.
If there's one takeaway here, it's this:
Customize the skills list on every resume you send to match the requirements of the job offer.
This way, you'll achieve two crucial things:
Show recruiters that you're made for this job specifically.
Beat resume-screening bots that scan resumes for relevant keywords.
How to make a resume skills list tailored to the job ad?
Start with a "master" list of all your professional skills. Note down all your professional skills in a spreadsheet (or on a piece of paper if you prefer the analog way)-list everything that makes you good at your job, both hard and soft skills.
Read the job description carefully. Pay attention to a "Requirements" or "Key Skills" section of the job ad.
Look for skills-related words and phrases such as "meticulous time-management," "knowledge of XYZ software," "proficient in Lean management" and so on. Jot them down.
Compare your master list of skills with those you see in the job ad. All those that match have to go on your resume.
But don't stop there! If the job ad calls for other skills you think you have, but forgot to enter on your master list, mention those on a resume, too.
Tell the truth, though. If you exaggerate your qualifications on a resume, recruiters will find out at some point.
Let's see how that works in practice. Below, you'll a sample job ad for a customer service representative.
See those keywords marked in yellow? Those are the key skills and qualifications successful candidates will have to list and prove on their resumes.
Key Skills in a Job Ad
Job Summary:
Present a professional image with a positive demeanor daily

Initiate customer interactions

and engage with prospects
Educate customers about our clients and the value of their products

Provide support and resources

that solidify the interest of customers
Establish rapport to pinpoint customer preferences and adapt accordingly
Become an

expert in the characteristics of the products

and services offered
Collaborate with the Customer Service Team to complete objectives
Desired Skills:
You're able to

make decisions and solve problems

You are able to

empathize with customers

in a genuine way that lets them know you care about their issues
You're a

team player

that can follow and lead as situations dictate
Requirements:
2-5 years of experience

working with customers in a technical role

Excellent

written and verbal communication

Experience with

JIRA, Zendesk, Salesforce or other support tools
Now that you know what's expected of you, show you have the skills they need.
2. Include key skills in a separate skills section.
This way, you'll help recruiters spot your relevant skills in a flash.
Use a standalone skills section where you put your most important qualifications. Make sure to:
Be specific and precise ("Written and verbal communication," instead of "good communicator").
Divide the skills by categories: usually, "Hard Skills" and "Soft Skills."
Use no more than 10 skills in total.
There are several formats you can opt for. We'll cover them referring to the above list of job skills marked in a job ad.
Bulleted List of All Skills
A simple-yet-effective method. Include a list of skills the employer wants and let the rest of your resume provide evidence you actually have them.
Hard Skills:
Providing customer support
Product knowledge
JIRA
Zendesk
Salesforce
Soft Skills:
Decision-making
Written and verbal communication
Teamwork and collaboration
Empathy
Brief Descriptions of Your Proficiency Level
You can also indicate how advanced your abilities are using descriptive words such as "Advanced," "Intermediate," or "Basic."
See the example below:
Hard Skills:
Customer support: expert
Product knowledge: advanced
Soft Skills:
Decision-making: expert
Written and verbal communication: advanced
Teamwork and collaboration: basic
Software:
JIRA: advanced
Zendesk: intermediate
Salesforce: intermediate
Want to up your skill descriptions game? Use simple graphics such as bar charts or boxes (yes, our builder does that for you).
Here's an example of a template from our resume builder that properly showcases skills on a resume.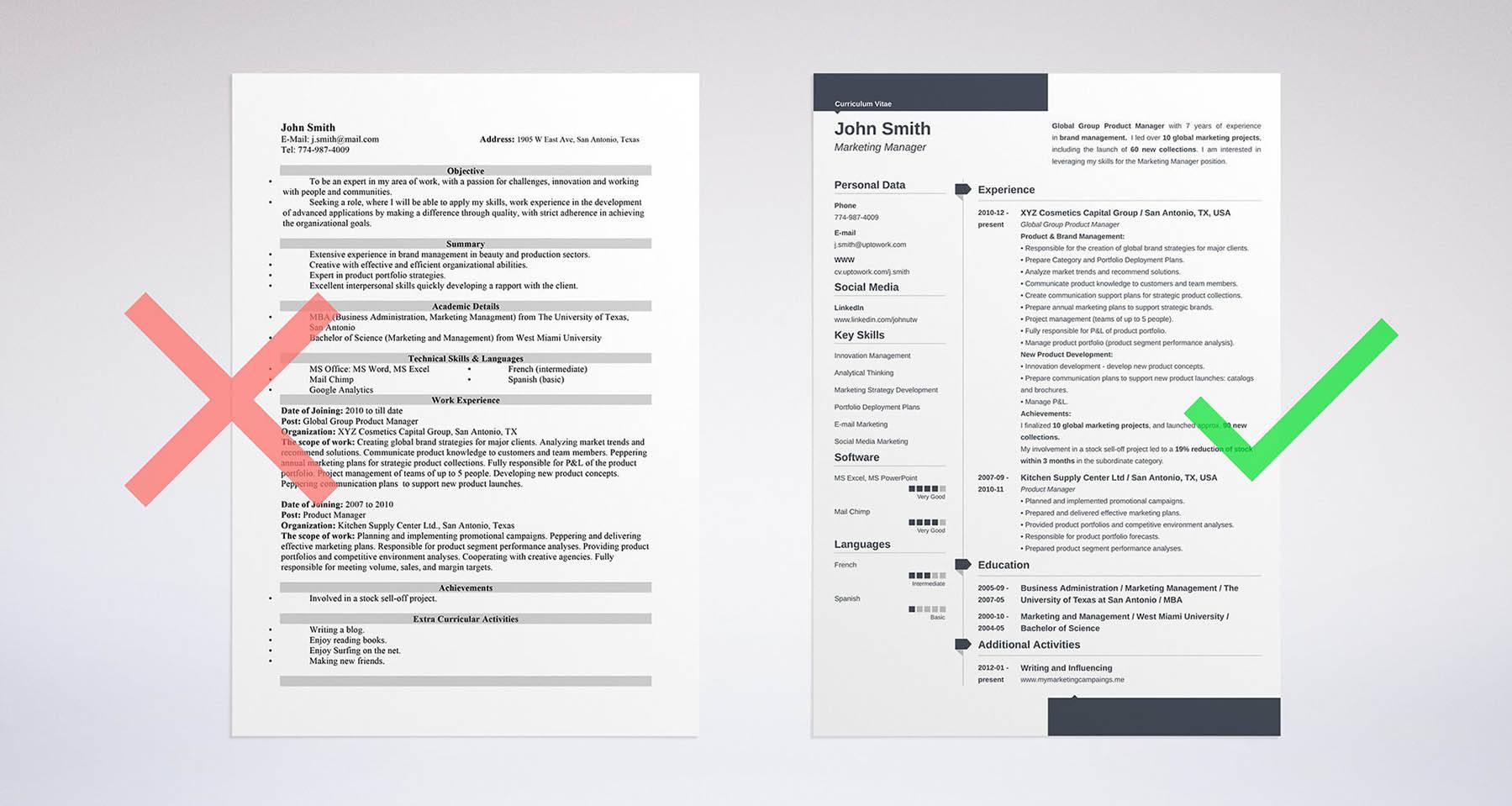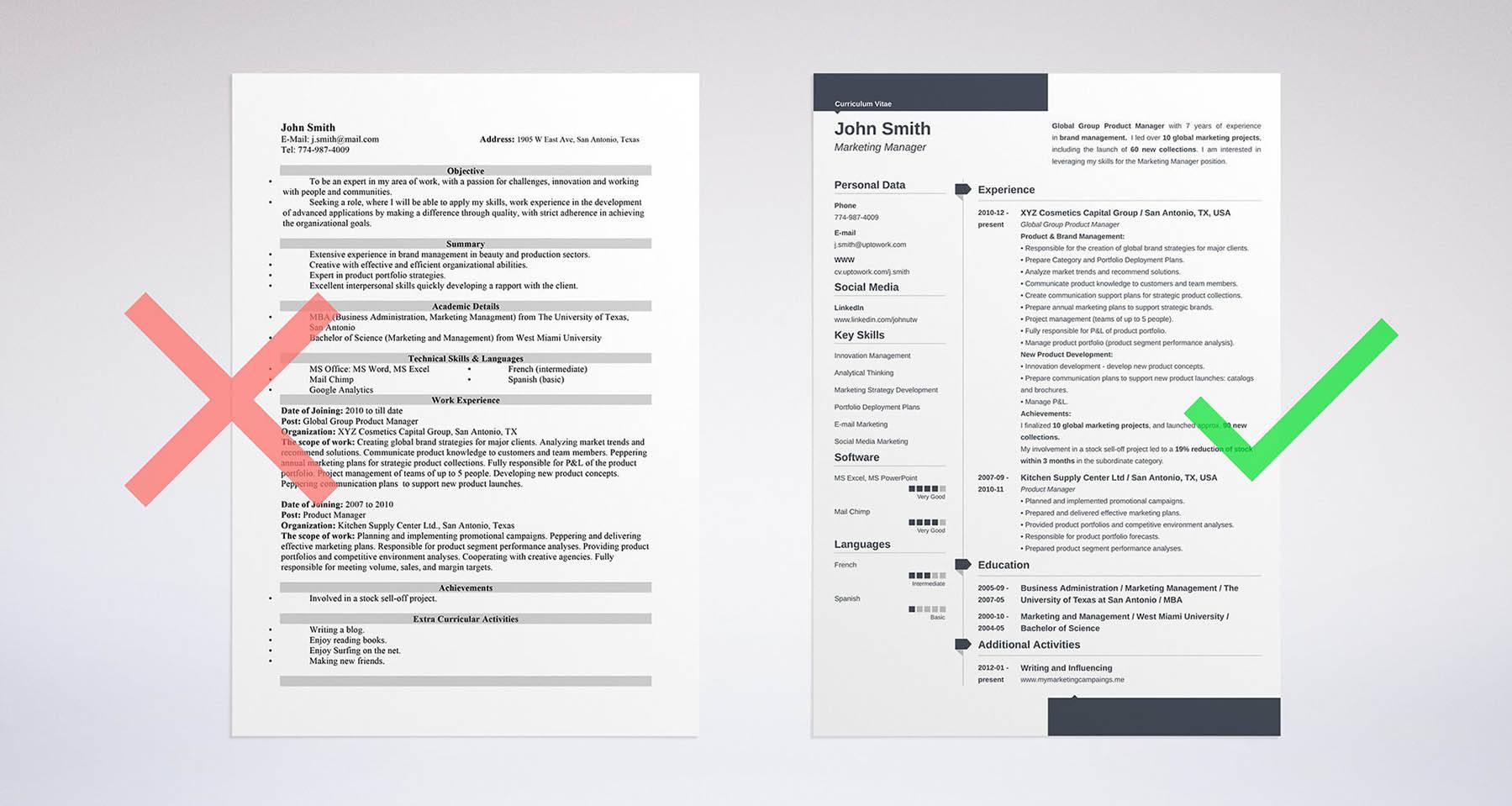 One of our users, Nikos, had this to say:
[I used] a nice template I found on Zety. My resume is now one page long, not three. With the same stuff.
Skills Summary (for Functional or Combination Resumes)
Finally, if you choose to write a resume in a skills-based or a combination format, you can put a more extensive skills summary at the top.
Select up to 4 most important skills and use them as headings. Below each heading, include examples of achievements that illustrate that skill.
Key Skills
Customer support
Boosted new customer NPS scores by 10%.
Maintained customer retention rate 40% above the company average.
Processed and average of 200 weekly orders from customers, distributors, and agents.
Product knowledge
Answered product and service questions and offered information on related products and services.
Helped to resolve a recurring product complaint by identifying a major process bottleneck. Reduced tickets by 70%.
Tools and software
JIRA
Zendesk
Salesforce
MS Office
Google Drive
If you think this solution will work best for you, learn how to write a skills-based or a combination resume:
How many skills should you list on a resume?
You should list between 5 and 10 skills on a resume, depending on how you choose to present them. For bulleted lists of software programs, hard skills, and soft skills, around 10 is the sweet spot. In funcional, skills-based resumes, focus on 4-6 most relevant general skill sets.
3. Add your work-related skills in the professional experience section.
Here's how it works:
A recruiter, we'll call her Wendy, glances at your resume.
She spots the skills section.
"Huh, this candidate looks solid," she says. "Let's see if he can put those skills to good use."
Where will Wendy look next?
That's right, your work history section with descriptions of past jobs.
This is where you have to prove you can apply your skillset in real-life professional situations.
Skills in a Resume's Work Experience Section
Customer Service Representative
XYZ Corp
Long Island, NY
2018-Present
Displayed

expertise in the characteristics and features of 100+ flagship products.

Provided support to clients in highly technical roles.

Worked with a team of 20+

CSRs and Sales Reps, applying Agile frameworks to

solving unexpected problems

such as new complaint types.
Trained new hires in using support tools:

JIRA, Zendesk, and Salesforce.

Commanded by supervisors for quick and efficient

decision-making.
See that? Now all those skills mean something to Wendy.
In your work life, practice is more important than theory after all.
4. Weave the most relevant skills into your resume profile.
You have a solid work skills list for a resume.
You don't just tell recruiters about your skills. You show them in the work experience section.
A resume profile is that short paragraph at the top of your resume. Its purpose is to give an overview of your career and explain why you're an ideal candidate.
Depending on your career level, you'll write it as either a resume summary (for experienced candidates) or a resume objective (for entry-level job seekers).
Yes, you guessed it-you have to mention a few of your most relevant skills in the profile on your resume, too. Remember:
What matters most is what skills the employer expects of you.
Let's stick with our example of a customer service job. The job ad calls for skills in:
Supporting customers in technical positions.
Problem-solving
Support tools and software
See how this candidates shows his skills in 1, 2, and 3.
Job Skills Highlighted in a Resume Profile
Customer service specialist with 2+ years of experience working with clients in highly technical roles (1) seeking a Customer Service Associate position with ABC Company. Applied Agile frameworks to facilitate problem-solving procedures (2) for new complaints, slashing ticket resolution time by 40%. Apower user of JIRA, Zendesk, and Salesforce (3).
What makes it so great?
Upon reading a 50-word-long paragraph, the recruiter already knows the candidate is skilled in everything that counts for this job.
5. Make sure to add the most in-demand skills.
Certain skills are particularly sought-after in today's job market.
I'm not saying you should make your skills up, but-
If you are an expert in one of the most in-demand skills, it's a good idea to add it to your resume, even if the job ad doesn't explicitly call for it.
6. List the best soft skills.
Creativity
Persuasion
Collaboration
Adaptability
Time Management
7. Prove your unique expertise with a good list of hard skills.
Cloud Computing
Artificial Intelligence
Analytical Reasoning
People Management
UX Design
Mobile Application Development
Video Production
Sales Leadership
Translation
Audio Production
Natural Language Processing
Scientific Computing
Game Development
Social Media Marketing
Animation
Business Analysis
Journalism
Digital Marketing
Industrial Design
Competitive Strategies
Customer Service Systems
Software Testing
Data Science
Computer Graphics
Corporate Communications
Key Takeaway
Here's how to list skills on a resume for a job:
Be relevant to the position you're after: pay attention to required skills mentioned in the job ad and list those on your resume.
Create a legible, separate skills section: list up to 10 key job skills, optionally adding descriptions of your proficiency level.
If you're writing a functional (skills-based) or a combination resume, create a skills summary and put it at the top: use 4 most relevant skills as subheadings, add achievements that validate each skill below.
Refer to your top skills in your resume's work experience section to show how you put your abilities to use.
Add 2-3 most relevant skills to your resume profile-a summary or objective.
Research what skills are most in-demand in your industry and be sure to list them on a resume if you think you have them.
Thanks for reading my article. Now, I'd love to hear from you. What are the biggest challenges when putting skills on resumes? What skills do you think are the most crucial? Do you need further assistance with your resume skills list? Drop me a line in the comments. Let's chat!